29.08.2023
"Vedernikov" Winery presents the first rose wine from Krasnostop Zolotovsky grape in the Don Valley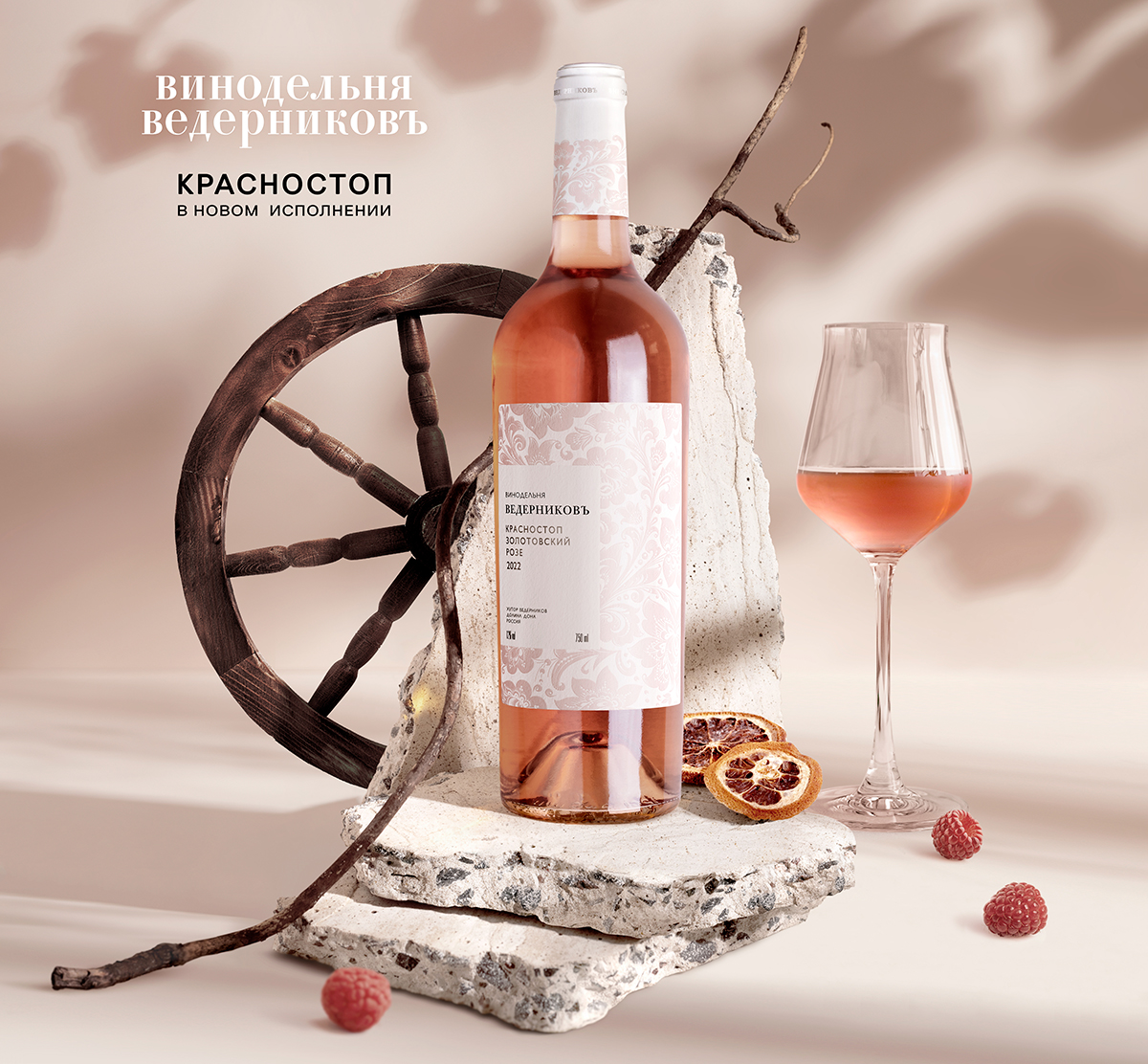 "Vedernikov" Winery, the flagship of Russian winemaking in the production of wines from autochthonous grape varieties, presents the first rose wine made of Krasnostop Zolotovsky grape in the Don Valley. The new product, "Krasnostop Rosé," is the result of experiments and meticulous work of the winery team in studying and discovering the inherent features of the original variety. Rose wine opens a new page in the history of "Vedernikov" Winery wines made from 100% Krasnostop Zolotovsky grape, which are already presented in other styles: still red dry with and without aging in oak, as well as pét-nat.
"Krasnostop Zolotovsky" is one of the most promising autochthonous grape varieties in Russia, which has earned recognition abroad, and is a key variety for "Vedernikov" Winery. The winery team, known for its innovative approach, continues its experimental work to explore the potential of "Krasnostop Zolotovsky" – an unpredictable and complex, rich and tannin-filled grape with a deep and multi-faceted aromatics.
Nowadays, "Vedernikov" Winery, part of the Abrau-Durso Group of Companies, presents a dry rose single variety wine made from Krasnostop Zolotovsky grape. To create it, the method of direct pressing and early manual harvesting of grapes is used. This wine boasts a luscious raspberry-pink hue, complemented by a perfectly harmonized aroma. Delicate hints of candied fruits and vibrant red berries dance on the palate.
Experience a sophisticated and balanced flavor profile, highlighted by delicate hints of tangy raspberry, elegant dogwood, and luscious pomegranate, followed by a pleasantly lingering, velvety finish. With the skill of the winemakers, rose wine has acquired the character of the Don: elegant, but at the same time rich and racy, with the recognizable style of the "Vedernikov" Winery.
"Krasnostop Zolotovsky is a renowned grape variety whose potential is yet for us to discover. It became famous primarily in the style of dry red wine aged in oak. Making rose wine is an interesting challenge, since not every year the conditions for its production can be called ideal. In 2022 they were optimal, and we were very pleased with the result. We are confident that experts and wine lovers will appreciate "Krasnostop Rosé" and discover new facets of the unique Russian variety in it," comments Maxim Troychuk, head of "Vedernikov" Winery.
"Vedernikov" Winery is one of the few domestic wineries that preserve extensive plantings of autochthons, including the largest vineyards of "Krasnostop Zolotovsky" grape of pure variety in Russia. "Vedernikov" Winery sees its mission in developing winemaking from unique autochthonous varieties and promoting them on the Russian and international markets. It was here that the main red Russian autochthonous variety, Krasnostop Zolotovsky grape, was discovered to the world, and "Vedernikov" Winery maintains its reputation as a unique professional in working with this complex grape variety. Dry red "Krasnostop Zolotovsky" wine, aged in oak barrels, is one of the most awarded ones in Russia and has been repeatedly awarded high awards at international wine-tasting competitions: IWC, Mundus Vini, Decanter, IWSC. According to the results of the Top100Wines 2022 expert rating, it was recognized as the best autochthonous wine in Russia. At the beginning of this year, the winery presented an interesting solution in the pét-nat style from Krasnostop Zolotovsky, which received recognition from the expert community.
The total number of bottles of the new product was 20,000. "Krasnostop Rosé" is already presented in the branded stores of the Abrau-Durso Wine Atelier, and will soon appear in leading restaurants in Moscow and St. Petersburg. The cost of a new product at the Wine Atelier in Moscow is 780 rubles.
Additional Information:
Wine with protected geographical indication "Don Valley" Vedernikov dry rose wine "Krasnostop Rosé"
Harvest: 2021.
Ingredients: 100% "Krasnostop Zolotovsky".
Alcoholic content: 12.0% vol.
Number of bottles: 20,000
Indulge in a sophisticated wine boasting a luscious raspberry shade. Experience an enchanting bouquet bursting with the luscious scents of ripe fruit, delightful strawberries and cream, mouth-watering marmalade, delicate dogwood, and a touch of cherry plum marshmallow. Experience a delightful fusion of flavors with a seamless blend of luscious raspberries, vibrant dogwood, and exquisite pomegranate. Get a taste of an enchanting aftertaste, lingering graciously with delicate hints of succulent strawberries.