21.09.2023
The new Abrau Mix is an aperitif for a lively mood from "Abrau-Durso"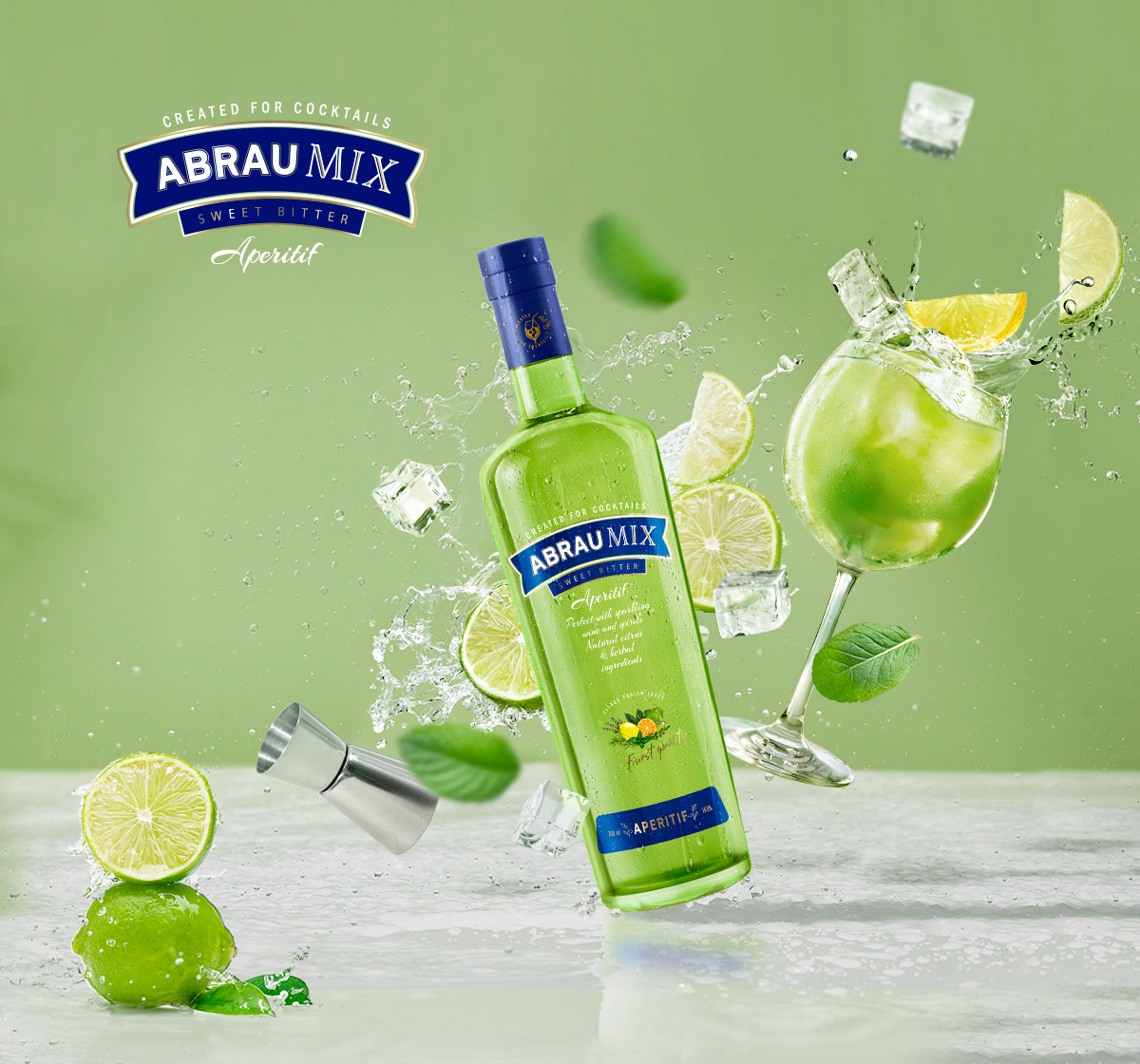 The new product from "Abrau-Durso" is the first Abrau Mix aperitif in the collection, created on the basis of fresh citrus and vegetable components. Bitter of a rich mint-lime shade with a subtle aroma with nuances of herbs and a balanced taste is an ideal base for racy cocktails with sparkling wine.
Cocktails based on bitters are increasingly popular. The global success of the beloved Italian tradition, aperitivo, played a crucial role. This is how the inhabitants of the Apennines call the time interval before dinner between six and nine in the evening, when they enjoy cocktails and light snacks. Such "opening" cocktails are often racy mixes based on bitters. Today, in Russia, young people are enjoying a rise in popularity of aperitifs. These light cocktails are perfect for parties or relaxed evenings with friends and family.
"Abrau-Durso" responds to current trends by introducing a new product in the modern aperitif category called the Abrau Mix, which boasts a bold and intense bitter flavor. It is created on the basis of fresh citrus fruits and more than twenty plant components. It has orange, lime, and lemon, which keeps the aperitif flavorful with an ideal balance of sweetness and acidity. A mix of juniper, lavender, eucalyptus, sage, rosemary and mint adds soft spicy nuances to the taste of Abrau Mix. The drink is distinguished by its sophisticated and distinctive sensory qualities. It captivates with a crisp, citrus flavor and a slightly tangy, bitter finish. The aroma blends subtle hints of orange with gentle touches of herbs and spices.
The combination of Abrau Mix with ice sparkling wine is the perfect recipe for an Abrau Spritz cocktail, which you can enjoy at home or at the bar. To create a stylish cocktail, it is recommended to mix 1 part of Abrau Mix and 2 parts of sparkling wine, for example, Abrau Durso Reserve Brut, and serve in a wine glass with ice with a slice of lime to enhance taste and aesthetics. Abrau Spritz creates a festive atmosphere for parties and gatherings with friends.
"We have changed the rules of the game and moved away from the traditional red color for the category of bitters. The vivid mint and lime shade and unique taste of Abrau Mix highlight its mission to cater to creative and adventurous individuals. Most importantly, we made an aperitif that goes well with sparkling wine. I believe Abrau Mix will become popular at home and professional bars," Vasily Dmitriev, Marketing Director of Abrau-Durso Group of companies, comments on the release of the new product.
The Abrau Mix design highlights its unique green color reminiscent of mint and lime, evoking the tangy flavors of lemon, lemongrass, lemon balm, and eucalyptus.
The new product is now available at "Abrau-Durso" Wine Atelier's own stores. It will soon reach larger retail chains and bars across Moscow and St. Petersburg. The cost of this new priduct at the Wine Atelier in Moscow is 750 rubles for 0.7 liters.
Additional information:
Bitter Abrau Mix:
The aroma combines delicate herbal and spicy flavors with a hint of citrus. The taste is rich in spice with a great combination of sweetness and acidity. In the aftertaste, a pronounced bitterness brings in piquancy when mixed with sparkling wine.
Strength: 15%.
Number of bottles: 150,000.
Volume: 0.7 l.
The perfect homemade Abrau Spritz Cocktail:
1 part Abrau Mix;
2 parts sparkling wine;
ice and a slice of lime.
Serve in a wine glass.