22.08.2022
THE FIRST PRODUCT FROM ABRAU-DURSO IN THE READY-TO-DRINK FORMAT IN AN ALUMINUM CAN - SPARKLING ABRAU LIGHT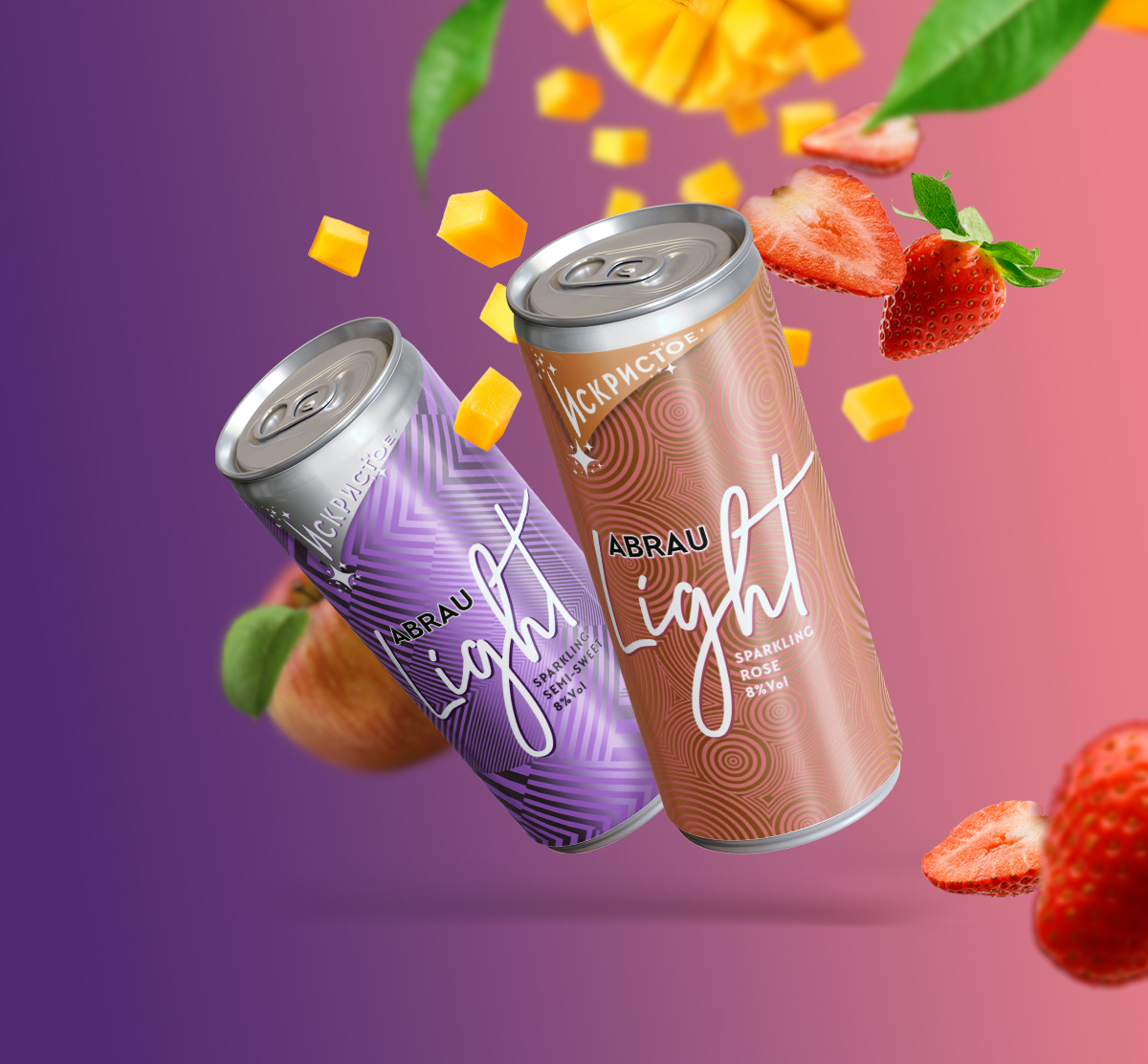 For the first time, Abrau-Durso Group presents a drink in a new format - Abrau Light in eco-friendly pack in aluminum can of 250 ml. The novelty meets the demand for a fast pace of life and provides convenience and comfort of consumption.
The can range of Abrau Light is represented by two bright flavors: white semi-sweet and pink semi-sweet. White semi-sweet with hints of guava, mango and apple is a great option for lovers of a harmonious combination of tropical nuances in summer drinks, and pink Abrau Light with aromas of strawberries, mango and exotic fruits with hints of lime is an excellent choice for connoisseurs of rich flavors. Sparkling drinks are ideal as a summer aperitif, they are also an excellent accompaniment to berry desserts, and when combined with ice, they form the basis for homemade cocktails. Given consumer interest in the ready-to-drink format, other sparkling flavors of Abrau Light will soon be presented in a convenient small-sized aluminum can.
"New product formats from favorite brands today are a great opportunity to expand consumption situations. Low-alcohol drinks in practical formats have great potential, where we see excellent prospects for the development of our product lines," said Vasily Dmitriev, Marketing Director of Abrau-Durso Group.
Summer and light Abrau Light is a great choice for everyone who wants to have fun with friends and chooses drinks with low alcohol content. Thanks to the new format, Abrau Light in a can is perfect for a variety of situations and moods: a fun noisy party, warm home meetings or atmospheric trips out of town, a cozy picnic with friends.
Pavel Titov, President of Abrau-Durso Group, comments on the new product: "Abrau Light is a well-known youth brand of low-alcohol beverages with bright flavors. Following the consumer demand, we offer a new small-volume eco-friendly portion pack. Abrau Light is the first ready-to-drink product in an aluminum can in our portfolio, opening up a new segment and a new audience for us that prefers convenient formats."
The novelty is already presented in the Abrau-Durso Wine Atelier network of branded stores, and in federal retail chains and distributors. The cost of Abrau Light in the Abrau-Durso Wine Atelier is 119 rubles.
Additional information
The Abrau Light collection was created for the young and stylish. The range of the line includes four bright tastes - semi-sweet white, rose and red, and sweet white. The alcohol content is only 8%. The collection is based on tropical, exotic, berry and fruit flavors. The sparkling Abrau Light line was previously presented on the market only in the classic format, 0.75 l, with a natural cork. Today, Abrau Light is also available in a new 250 ml pack with a bright design that is easy to take.