04.08.2023
Territory of good taste - the new Abrau Light Resort & SPA hotel in Abrau-Durso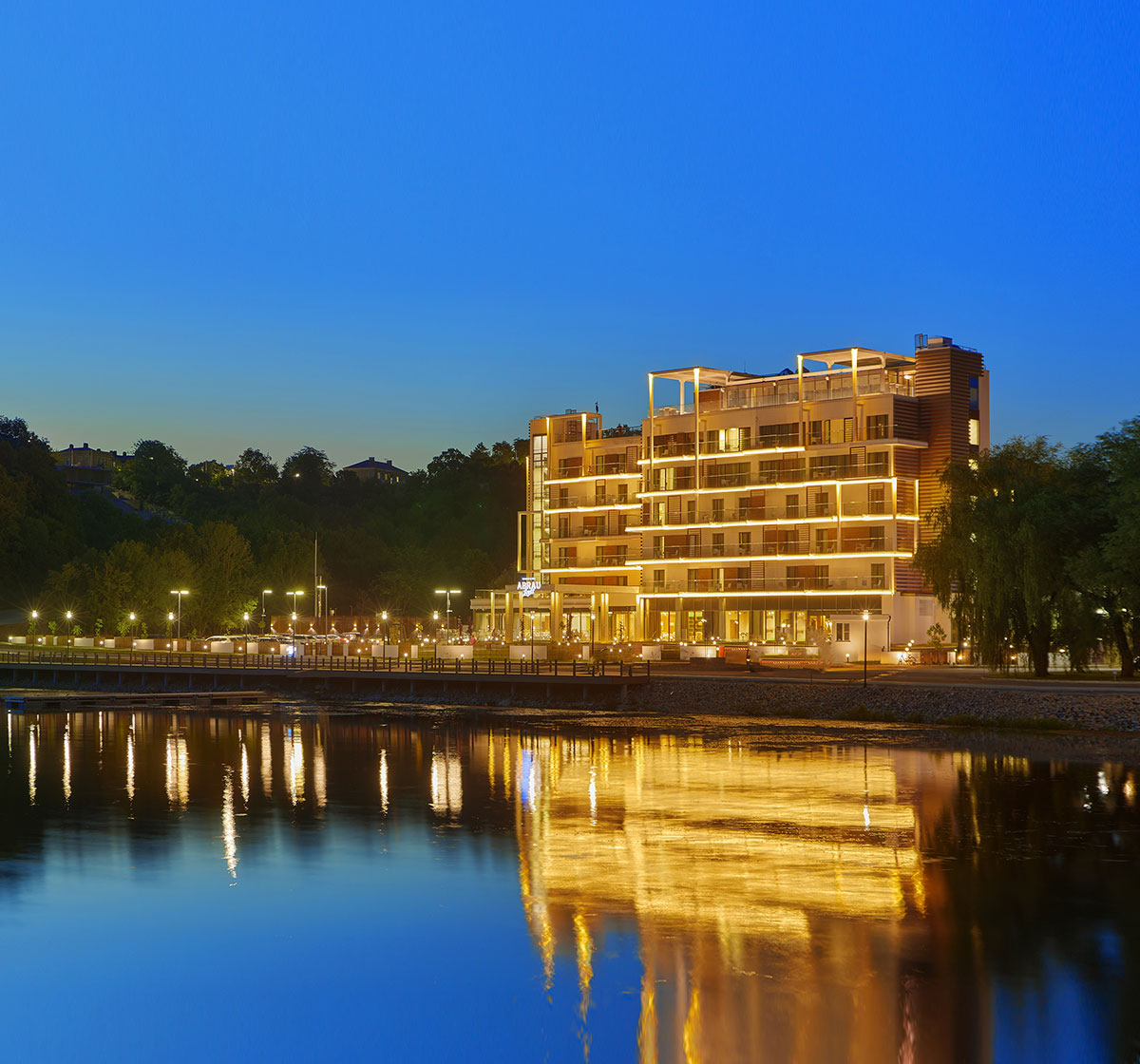 Today, on August 4, a modern four-star hotel Abrau Light Resort & SPA has officially opened in Abrau-Durso. This seven-story hotel with 111 rooms is distinguished by its location - in one of the most picturesque places of the resort, on the shores of the emerald lake Abrau surrounded by green hills of the Caucasus foothills. Abrau Light Resort & SPA presents its guests with a modern comfort interpretation - all rooms are equipped with "smart home" systems with a voice assistant, in each bathroom there is an exclusive line of Abrau Cosmetics designed specifically for the hotel.
The stunning beauty of Abrau-Durso located in Krasnodar Krai, very close to the Black Sea coast, has been winning the hearts of guests for more than a century and a half. Today, Abrau-Durso has become the main tourist destination for wine connoisseurs and fans of tasteful holidays from various Russian cities. The Abrau-Durso Tourism Center is the flagship of domestic wine tourism and annually welcomes more than 500 thousand guests, offering them a wide variety of leisure opportunities.
In August 2023, another place of attraction appeared on the shore of Lake Abrau. The large infrastructure of the Tourism Center has been supplemented by a bright and modern four-star hotel - Abrau Light Resort & SPA, which provides guests with many entertainment and opportunities for a comfortable family vacation. Seven floors of Abrau Light Resort & SPA are 111 modern rooms of various categories:
● 47 standard rooms,
● 28 standard + rooms,
● 7 standard rooms with a terrace,
● 8 family rooms,
● 10 junior suites,
● 4 junior suites +,
● 6 luxury suites,
● 1 grand luxury suite.
All rooms are equipped with a "smart home" system based on Alice Yandex.Station with voice control: turn on the lights, music or TV, set up climate control and adjust the lighting without moving using voice commands.
Especially for Abrau Light Resort & SPA, a new line of Abrau Cosmetics was created with natural ingredients, including grape seed oil, with a unique aroma consisting of notes of bergamot, citrus and grassy accents. Each room has a mild cleansing shower gel, moisturizing shampoo, balancing hair conditioner and nourishing body lotion. Softening liquid soap and hand lotion are available in common areas. The hotel uses eco-friendly refillable glass bottles for beauty products.
The Champagne Spa Light offers sophisticated relaxation rituals for body and soul. A pleasant compliment - a visit to the thermal zone is included in the price. The newest spa center offers various relaxation options for guests: a hydromassage pool, a laconium, a hammam and a Finnish sauna. On the ground floor, there is a gym for comfortable sports. The hotel has an outdoor 25-meter heated swimming pool with a separate children's area, near which it is pleasant to spend time even in the cool season.
The new hotel has two restaurants: European cuisine is presented at the ONE restaurant on the first floor, and the SEVEN restaurant, the first pan-Asian restaurant in Abrau-Durso, will soon open its doors on the seventh floor. The ONE Restaurant serves buffet breakfast included in the accommodation price - it is especially pleasant to start the day on the outdoor terrace with a glass of ice-cold sparkling wine and impressive views of Lake Abrau. The second SEVEN restaurant will open soon and will embody the Asia spirit not only in the menu, but also in the restaurant interior. Guests will be able to explore new tastes from the Abrau-Durso brand chef Sergey Alshevsky on the open panoramic terrace overlooking the green hills and the water surface of Lake Abrau.
For guests of Abrau Light Resort & SPA, free parking is available on site. In addition, there is a comfortable transfer to the historical center of the resort along Lake Abrau, and in the warm season to the equipped Abrau Beach on the Black Sea. The hotel service team will be glad to offer its residents a wide range of entertainment for an unforgettable vacation: hiking trails with various routes for hiking and trekking, boat trips on the lake on modern boats or retro yachts, and much more. Abrau Light Resort & SPA corporate clients can use a modern meeting room with all necessary equipment and the halls of the Abrau-Durso Congress Hall. The resort's infrastructure combines various venues for events: from business conferences and team building to wedding ceremonies, which will be organized by an experienced team of professionals from the Abrau-Durso Tourism Center.
"Since the beginning of its work in 2008, the Abrau-Durso Tourism Center has come a long way, developing not only the wine culture, but also demonstrating high standards of service to guests, offering more and more leisure options. Today, Abrau-Durso is a year-round resort with a developed infrastructure and amazing opportunities for recreation. Now we are presenting a new modern four-star Abrau Light Resort & SPA and with it new ideas for an unforgettable vacation for immersing in the atmosphere of a carefree holiday in the Abrau-Durso style. We are glad to welcome the first guests of the hotel and we are sure that they will appreciate the beauty of our resort and enjoy the new format of a comfortable stay at Abrau Light Resort & SPA," comments Irina Goncharova, Vice President for Tourism and Special Projects of the Abrau-Durso Group.
The cost of staying at the Abrau Light Resort & SPA Hotel is 12,700 rubles for double occupancy. Buffet breakfast and access to the thermal area are included in the price.
You can choose a room and make a reservation on the website https://visitabrau.ru /.
See you in Abrau-Durso!