21.08.2020
Abrau-Durso Group brought 9 medals from the international wine tasting competition IWSC 2020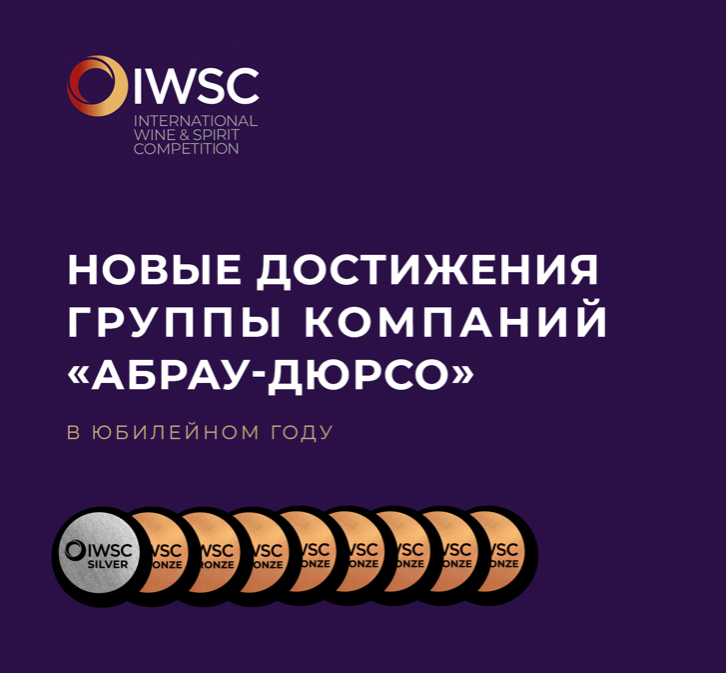 Abrau-Durso Group received one silver and 8 bronze medals at the 51th annual International Wine & Spirit Competition (IWSC). Because of the pandemic, the contest was postponed from May to August. On 20th August, the results were announced in London.

A still wine from Cabernet Sauvignon Abrau-Durso 2018 premium collection received a silver medal. This is an exquisite wine with a distinguished bouquet of black currant and ripe cherry, with an intensive taste and subtle notes of spices in the aftertaste.
Three sparkling wines from the Imperial collection: Rosé Brut 2014, Brut d'Or Blanc de Blancs 2016 and Victor Dravigny Extra Brut 2016 were awarded bronze medals. Some still wines from Abrau-Durso's premium collection were also awarded bronze medals: Pinot Noir Abrau-Durso 2018, Chardonnet Abrau-Durso 2018 and Cabernet Sauvignon Abrau-Durso 2017.
Vedernikov Winery presented its debut collection of classic sparkling wines made from autochthonous sorts of the Don region for the first time and was awarded a bronze prize. The winners were Sibirkoviy / Tsymlyanskiy Cherniy Extra Brut and Tsymlyanskiy Cherniy Rosé Brut 2017.
IWSC has been held in London since the foundation of Club Oenologique in 1969. This competition is unique, since the beverages are not only assessed for their organoleptic qualities, but also on the basis of the chemical analysis. IWSC have their own premises for wine storage and tasting, as well as their own chemical labs that test the samples presented for the competition.
In addition to still and sparkling wines, the competition also included alcoholic drinks from other categories, representing more than 90 countries. An IWSC award is a sign of worldwide standard. It is judged by hundreds of international experts - wine critics, manufacturers, sommeliers and distributors from 30 countries.